Liberian Women's Co-op Overcomes Market Challenges of COVID-19
Photo by Patrick Meinhardt for CRS
With the outbreak of COVID-19, rural women farmers in Liberia faced multiple challenges. Not only did they have no market to sell their products and limited business management skills, but the pandemic also caused serious economic hardship and a depreciation in the market value of their products.
In addition to straining Liberia's health system, COVID-19 posed serious economic and business challenges for Liberians. Even before the pandemic, many farmers lacked basic business and farm management know-how. That led to massive post-harvest losses.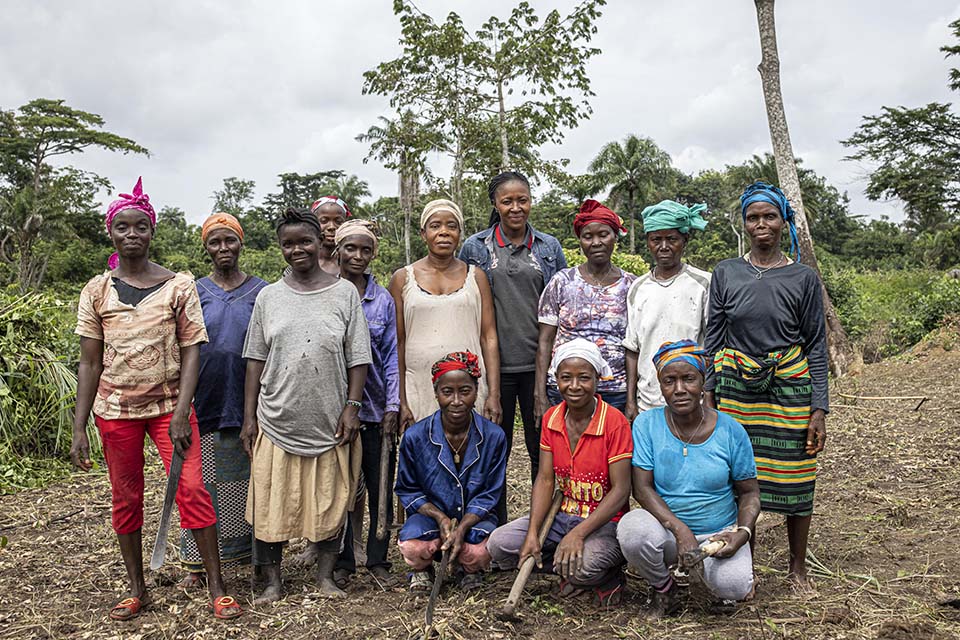 Women from Suakoko Rural Women Cooperative Society gather in Bong County, Liberia. They participated in training through the CRS Agriculture Sustainability Activity project.
Photo by Patrick Meinhardt for CRS
"Since COVID-19 came, we have lost many of our customers. Whenever we harvest the crops, we see low sales turnout because of travel restrictions and lockdowns to contain the spread of the virus," says, Musu Nana, head of the Suakoko Rural Women Cooperative Society.
Through the USAID-funded Agriculture Sustainability Activity, the farming cooperative in Bong County received training from international volunteers as part of the Farmer-to-Farmer program. This program helps the cooperative increase agricultural productivity through efficient and effective farming methods and climate-smart farming practices and technologies that improve crop yields and market value.
"Intercropping is very good," Musu says as she explains one of the practices the cooperative learned through the project. "Right now, we are planting more than one crop on one piece of land. And some of the crops help the other crops grow faster. We are managing the land and gaining more. Right after the training, we sold the rice and cassava that were in our warehouse. We gained a lot because we were able to get people to buy from us. We added value to everything we have been harvesting and selling."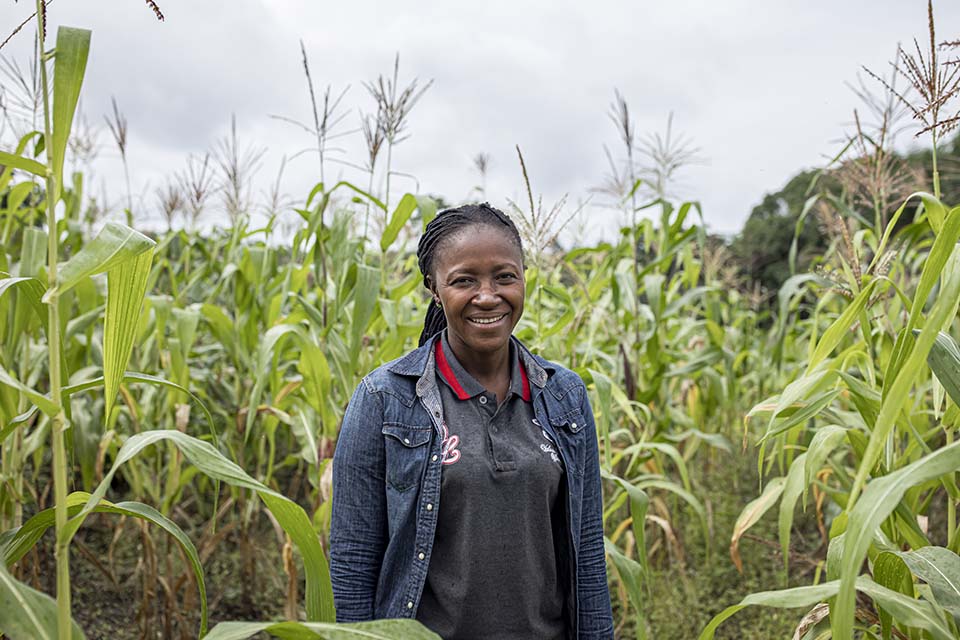 Musu Nana, head of the Suakoko Rural Women Cooperative Society, stands in a corn field in Bong County, Liberia. 
Photo by Patrick Meinhardt for CRS
As an early member of the cooperative, Musu has witnessed the group grow dramatically over the past several years.
"When we started in 2015, there were only 30 farmers. Today we are 1,242. CRS, through the USAID-funded ASA project, has greatly helped us improve our farming practices and selling of our product. As many of us rely on our farms to support our families," Musu says.
With improvements in farm management, production and sale of produce, Musu believes they can overcome market challenges like those they faced with COVID-19. Musu and other members of the cooperative are encouraging more women farmers in their community to use the skills they have acquired to help Liberia.
"With the motivation and workforce we have," Musa says, "I dream of solving the hunger issue in Liberia. Every year Liberians import tons of rice from outside Liberia. But I believe with more help like this, we can change that."