Raising Uganda's Vanilla Market Position
Photo by Martin Jjumba for CRS
In Uganda, about 45 miles east of Kampala is Kayunga district, an area bustling with vanilla growing. Mukasa Jackson, a resident of Namakandwa village started growing vanilla in 2002. At the time, vanilla prices had dropped to their lowest—less than a dollar per kilogram. Many farmers had cut down their vines due to its price drop.
Tempted as he was to raze his vines, Mukasa instead decided to invest more in the crop.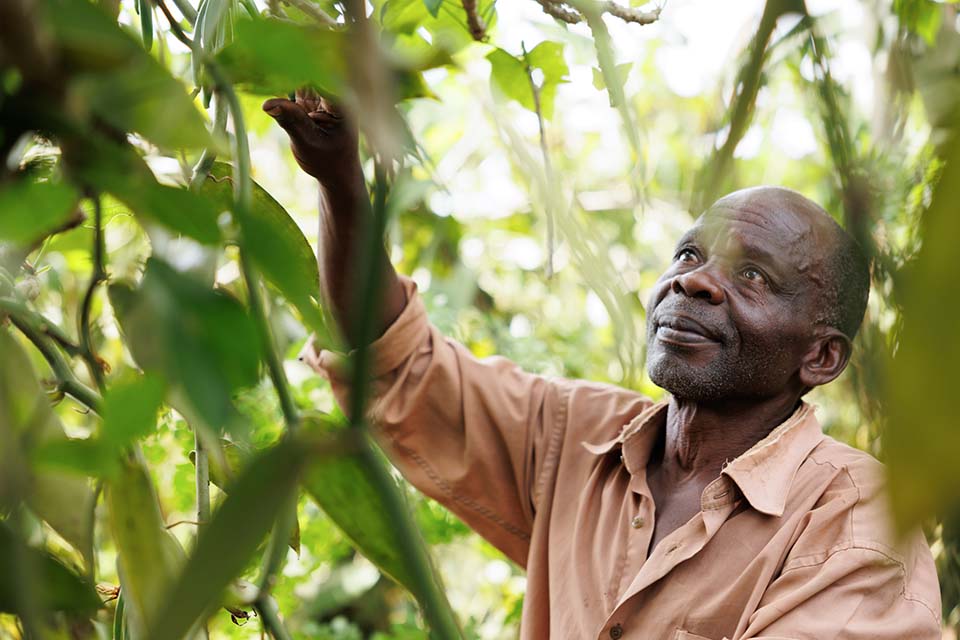 Mukasa Jackson started growing vanilla in 2002. He has seen prices drop and rise but this has not deterred him from growing vanilla. He says that even at its lowest price, vanilla still fetches more money per kilogram than any other crop. He has been able to build a house, educate his children, start other businesses and is well known in his community for vanilla growing.
Photo by Martin Jjumba for CRS
"Even if the price of vanilla had dropped so low, it was still way higher than that of other crops. It was still more profitable if you looked at it closely," says Mukasa.
For instance, in 2002 when vanilla prices dropped below a dollar a kilogram, coffee was going for about 15 cents a kilogram.
"A friend advised me to grow vanilla as a hobby and to be patient," Mukasa recalls.
Over the years, vanilla prices improved ranging from $5 to $54. At one time Mukasa earned $1,081 from the crop, at another, $5,400. Currently he is expecting $13,500 from his next harvest.
Through vanilla profits, Mukasa was able to build a large home and provide for his family—educating some of his children up to university level.
"For me, I call vanilla gold because everything I have is because of vanilla. Vanilla has been my support and I enjoy growing it," says Mukasa.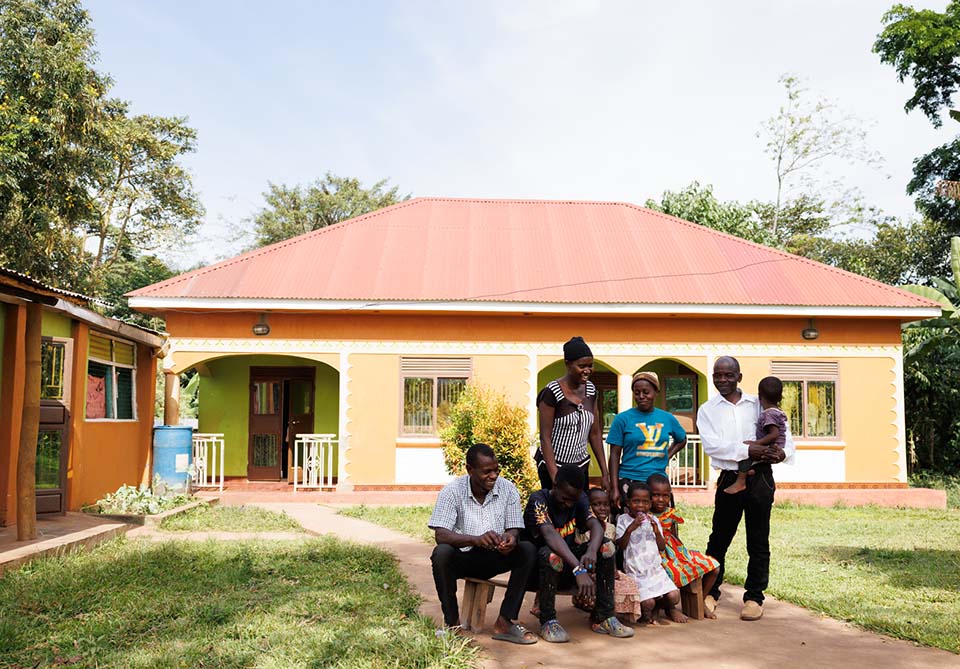 Mukasa Jackson and his family gather in front of the house he built using vanilla profits. 
Photo by Martin Jjumba for CRS
Catholic Relief Services has been working with several vanilla farmers including Mukasa, supporting them to improve the quality of their vanilla and strengthen profits.
Through the Vines project, funded by the U.S. Department of Agriculture, CRS is working to make Uganda the world's next leading supplier of high-quality vanilla, increasing exports from 55 tons to 386 tons per year by 2025. Vines aims to directly transform the lives of 16,200 farmers; create 15,820 new jobs; and strengthen 836 micro, small and medium enterprises as well as 25 processing companies that support the market system.
"In the past, buyers scrambled for vanilla but we are working to see that buyers have steady supply of vanilla from Uganda through sustained quality production," says Kiza Kizito, Vines project manager for policy and advocacy.
According to Maurice Kyambadde, Buikwe district agriculture officer, many farmers now have knowledge of good production with Vines emphasizing the quality of their product.
"In the next 10 years, we see a tremendous increase in production of high-quality vanilla in Uganda and Uganda as a preferred source of vanilla," says Kyanbadde.