In July 2022, Ma-Korto Clarke, an elderly resident of the Duduville community in Monrovia, Liberia, lost her sole source of income during heavy floods.
Ma-Korto, who lives with her two grandchildren, used to sell charcoal to make ends meet for her family. Just like her customers, she used charcoal to cook for her family. Then heavy rain flooded her home and destroyed her stock of charcoal.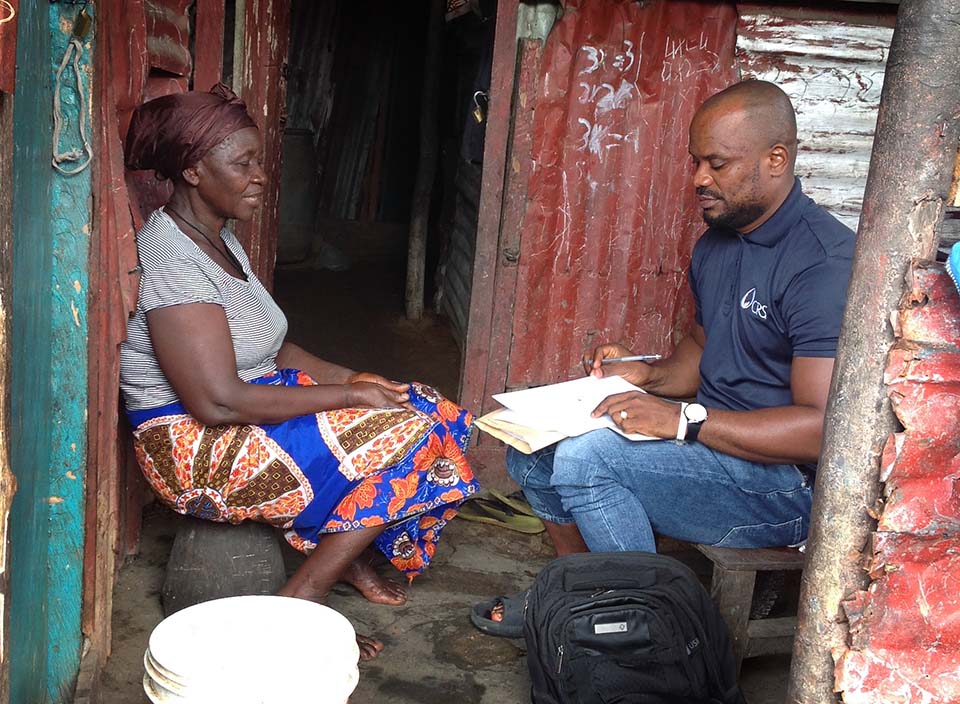 Ma-Kortu Clarke, left, tells CRS' Theophilus Davis how the CRS REACH project enabled her to continue providing for her family.
Photo by CRS staff
"I was broken because the water filled the entire house. We did not have a place to sleep for seven days, and things were difficult for us," Ma-Korto explained.
At the peak of the rainy season in Liberia, flash flooding is not unusual for many communities like Duduville. Lowland communities, informal communities and communities along riverbanks are usually the most affected. The country experienced one of its worst flood disasters on record this year, with over 40 communities affected.
Water submerged many houses, damaging some and causing significant property damage. Many people were displaced. A survey conducted by the National Disaster Management Agency of Liberia showed that 951 households totaling 6,024 persons were affected, 261 houses were  damaged, and 19 households are displaced and being hosted by relatives.
In response, Catholic Relief Services partnered with the Liberian government to launch the Rapid Emergency Assistance for Community and Households project, aimed at helping families recover their livelihoods.
Funded by CRS' Humanitarian Response department, the REACH project aims to serve households like Ma-Korto's that were most affected by flooding. The project has provided a total of 225 households in three communities of Monrovia—Duduville, Lofa and Battery Factory—with multipurpose cash assistance.
"Thanks to CRS, my grandchildren have food to eat for now, while I look for ways to rebuild my business," Ma-Korto said.
CRS was the first international organization to respond to the flood disaster in Monrovia and we continue to collaborate with Liberia's National Disaster Management Agency, as well as other organizations, to provide support to affected households.